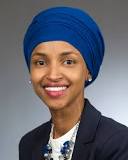 Yes, you will be happier if you go back to where you come from and to fight that evil government from which you had escaped.
But, you won't. First, you know you will be beheaded if you have the guts even to say a word to defend your people there, and secondly, you enjoy so much freedom and wealth this country has offered you. And the freedom you never hesitate to use to spew hatred against this country.
Yes, you hate this country so much and you want to dismantle her. You lie, even about your own marriages, distort facts and want the democracy follow your way, not the other way around.
Yes, you are working hard and hoping to switch the democratic/western cultures of this country to your muslim culture. It is so self-evident of your intentions by your wearing of that hijab daily.

I would also include all of those who hate so much of this country to leave or go back to wherever their ancestors had come from.